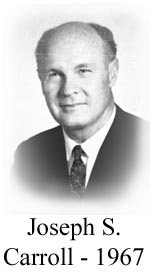 In 1967, our campus was built on 50 wooded acres at the base of Paris Mountain, just two miles north of the city. Previous ministries of the founder, Joseph S. Carroll, had convinced him of the need for biblical training with a whole new emphasis.
Mr. Carroll spent many years traveling, teaching and counseling missionaries overseas. He saw clearly that a Christian life or ministry that was not fully yielded to the Lordship of Christ and that did not recognize the primacy of prayer and worship was destined to fail.
Mr. Carroll moved to Greenville, South Carolina, where the Lord impressed upon him to establish a Bible school called The Evangelical Institute (EI) to teach these foundational principles. It was established on the belief that if God wanted to launch this ministry, He would provide all the funds and resources needed. And the Lord did abundantly provide.

The first class of 13 students arrived in the fall of 1972. Since that time, hundreds of young people from all over the world have come to see the life of faith lived before them and to begin to walk that path themselves. Many of our graduates are now involved in missions all over the world, including SEND International, TEAM, Operation Mobilization, Gospel Recordings and The Great Commission, Inc. Other graduates pastor churches and are involved in national mission projects, while many more serve the Lord faithfully in local churches.
Today, we see world cultures changing rapidly. New and powerful tools are developed daily to reach men and women with the Good News, but tools are only effective when the workers are controlled by the Lord and filled with His Spirit. So our aim remains the same – to create an environment in which young men and women can learn God's ways and nurture a deep love for Jesus Christ.